Rev. Robin Anderson - Co-Founder/Treasurer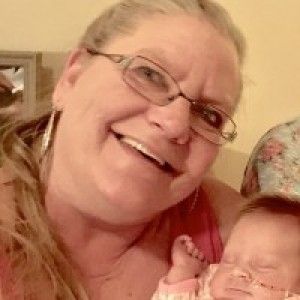 As a child, Rev. Robin spent her Sundays alternating between her mother's Methodist Church and her father's  Catholic Church.  She says she doesn't remember a time when she didn't have a relationship with God.  It wasn't until nursing school when she was listening to Christian music that she realized that she needed a personal relationship with Jesus Christ.  Though music has always been a part of her life, Christian music was new to her.  So she said the sinner's prayer.  "I wanted to make sure I wasn't going to get to the Pearly Gates only to be told 'You never said the prayer.'"  
Robin met her husband and co-founder David at a Retreat while in Nursing School.  She says that meeting David was an answer to prayer.  As a young girl she prayed often for the man that God would have her marry.  "He couldn't drink, smoke, and had to love God more than me.  I always added that being musical and handsome would be welcome as well. I got lucky on all counts." 
Robin has been active in music ministry since she was a teen.  She sings and plays keyboards. She also has a heart for women's ministries, and has served on a couple of leadership teams.  She and David have a heart for marriage.  She along with her husband have counseled a few couples through some rough patches. 
She reports that this call on her life is unexpected, but she is looking forward to following Jesus in whatever capacity He has for her.  Robin becomes quiet when asked about herself stating "I'm nothing special, I just love the Lord.  I'm so not perfect and still struggle with sin.  I have no idea why God chose us , but I'm thankful that God wants ME to go help other churches, orphanages, and women."  Ask her husband David and he'll tell you she's more than nothing. " People love her, she has a great heart."

Check out Robin's Blog "Footsteps of Faith" right HERE.